Nanosonics AuditPro™ standardises your ultrasound infection prevention practices, helps you meet accreditation requirements and delivers best practice patient care across your organisation.
Nanosonics AuditPro is an automated and secure digital system that:
Combines clinician infection prevention decision making, with
The trophon®2 device infection control workflow data, and
patient procedure information.
Sophisticated software presents this data in information-rich dashboards, survey ready compliance reports and risk notifications. This provides you with real-time intelligence on ultrasound probes, operators and infection control events to manage infection prevention practices across your organisation.

Now with two customised digital solutions, the AuditPro Digital Logbook and the AuditPro Workflow Compliance Management Solution, you can choose the level of digital traceability required.
---
---
The Nanosonics AuditPro system includes:
Mobile Scanning Device and Docking Station
Workflow compliance mobile application
Compliance reporting and dashboard application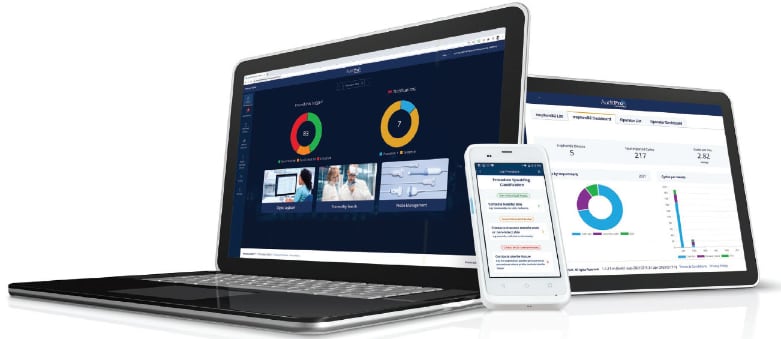 Mobile Scanning Device and Docking Station
A Healthcare-grade mobile scanning device and docking station incorporating radio frequency identification (RFID) technology and 3D scanner.
Workflow Compliance Mobile Application
The Mobile Scanning Device is loaded with the Nanosonics AuditPro mobile application that standardizes and incorporates infection prevention compliance as part of the clinical workflow.
Reporting and dashboard application
A software subscription to a secure application provides real-time data, information-rich dashboards, asset intelligence, and survey-ready reports linking reprocessing cycles with individual patient procedures.
The trophon® family includes trophon® EPR and trophon®2 which share the same core technology of 'sonically activated' hydrogen peroxide.